Synopsis

Robot calibration, cell calibration and 6D object identification

iSiOS offers four lines of products:

Depending on the robot type iSiOS standard calibration raises the absolute positioning accuracy of industrial robots up to average errors below 0.25 mm. In some demanding applications of the automotive industry, iSiOS-calibrated special purpose robots are used e.g. as flexible measurement systems (FMS) or coordinate measurement machines (CMM) resp. with a minimal average error after calibration.
iSiOS inline

calibration

systems are installed stationary in all workcells of a production line with substantial accuracy requirements. iSiOS keeps Robots continually on maximum precision levels. The system monitors production accuracy and promptly recalibrates the robot automatically or on demand. Optionally, recalibration may proceed concurrently with regular production during short breaks between cycles. Automatic Recalibration is triggered by deformations, slight collisions, replacement of components or exceedance of predefined tolerances of wear and tear.
In combination with the calibrated robot, iSiOS becomes a special purpose measurement system. iSiOS cell

calibration

automatically identifies the precise 6D-pose - i.e. position and orientation - of fixtures and workpieces in the robot workcell; e.g. the varying pose of fixtures on a rotary table. The 3D-geometry of a robot tool or a workpiece can be identified free of contact with a closely related concept.
iSiOS gantry

calibration

increases the absolute absolute accuracy of large gantry robots to average errors of a few hundreth mm. In demanding applications of the automotive industry, gantry robots which are constructed from standard off-the-shelve components are used as high-precision CMM (coordinate measurement machines) after calibration by iSiOS.

iSiOS temperature compensation offsets critical warm-up effects of robots. Depending on the robot type, iSiOS keeps maximum deviations below 0.1 mm during the whole operating period
The patented functional principle of iSiOS uses the straightness of laser-beams for precise, model-based calibration of robots. Robust sensors register the laser beam with high accuracy. Traditional, costly precision measurement instruments are not required anymore. A scalable sensitivity of the system guarantees maximum absolute positioning accuracy of calibrated robots throughout the complete workspace. After (re-)calibration, exact control of the robot is achieved by updating the control unit without interrupting regular production.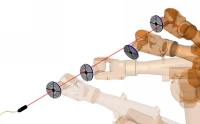 A closer look at iSiOS technology can be found here.

A favourable price-performance ratio together with the compactness and robustness of components makes it possible to equip all critical robot cells of a production line with a stationary iSiOS system. Recalibration and object measurement capabilities are readily available on site. The calibration proceeds automatically after activation.